What to look for in a React Developer
Yeah, of course a React developer will have to know Node.js, Redux , SASS, and some HTML probably wouldn't hurt either. But just as important is that the React developer can work effectively as part of a team, and contribute outside the box, creative thinking. That's where Ambr comes in. We take pride in our ability not only to write these languages, but our ability to speak your languages too: teamwork & success. We come up with creative solutions to business problems. The best part of our job is brainstorming ways to help grow businesses in the most efficient ways possible.
Vancouver's React Scene
In addition to regularly helping out at Red Academy, in May 2018, Ambr had the pleasure of being a sponsor for the BC Tech Summit – Vancouver as well as Western Canada's largest Technology phentermine online conference. From there we get a good vantage point on Vancouver's tech scene– it's cool to see the amount of React is being used in the city. From Meetups to coding Bootcamps, the city has a blossoming and thriving React developer scene. Take a look on Craigslist and see how many job postings there are for React. And the pay isn't bad either.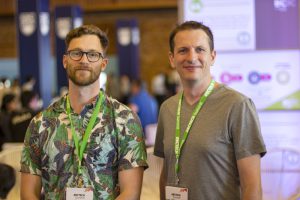 Why go with Ambr for your React project
Ambr does things a little differently. We come from a mix of business and scientific backgrounds, meaning we blend an analytical, numbers based approach with a wealth of experience. We strive for efficiencies, and we have personability, that frankly, you don't always get in the tech industry. Get in touch with Ambr today and see how we can help with your React development project.
Looking for a Vancouver React developer?
Or have a question about React.js? Then drop us a line. We love to collaborate or hear from you. Go ahead and also check out some of our other web design, development and SEO services.